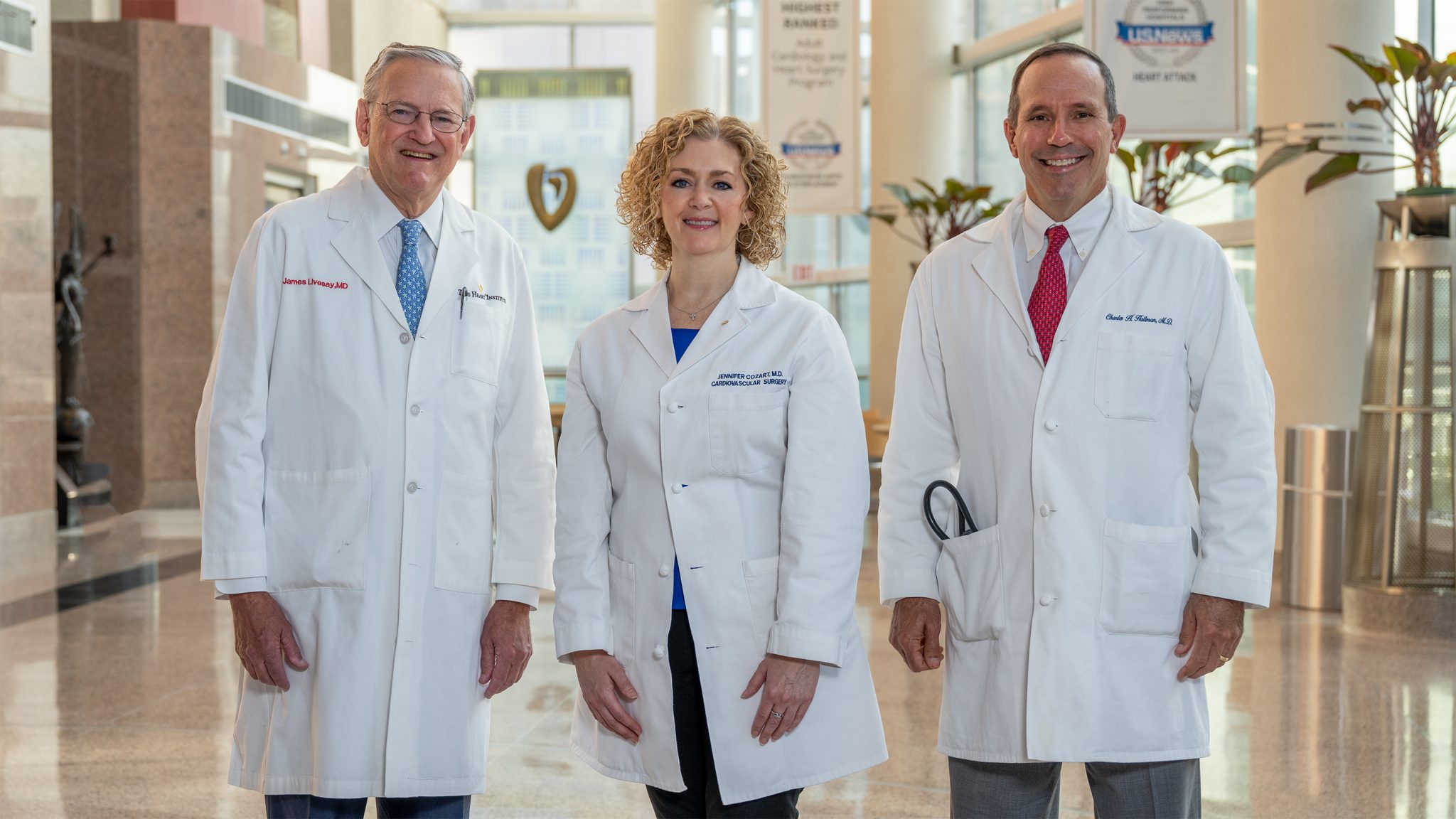 Conditions, Diagnostics and Treatments
Cardiothoracic Surgery
The Texas Heart Institute Center for Cardiovascular Care provides more than traditional medicine. Our surgeons are experienced members of the surgical team founded by Dr. Denton A. Cooley at the world-renowned Texas Heart Institute in Houston's Texas Medical Center. Over the years, this team performed more than 115,000 open-heart surgeries, a record unmatched by most surgical teams worldwide.
Our surgeons specialize in caring for patients with high-risk conditions, many in advanced stages of heart or vascular disease, who need a unique level of surgical care that demands advanced skills and significant experience to treat some of the most challenging cardiovascular conditions successfully.
OUR EXPERTISE
Cardiac
Aneurysm of Ascending, Root, Arch Aorta
Arrhythmia Surgery
Cardiac Assist Devices
Convergent Procedure  (Dr. Cozart)
Coronary Artery Aneurysm Resection
Coronary Artery Bypass
Endarterectomy
Left Ventricular Aneurysm Resection
MAZE Procedure
Pericardial Resection
Pericardial Window
Removal Cardiac Tumors
TAVR
Valve Repair/Replacement – Aortic, Mitral, Pulmonary, & Tricuspid
Thoracic

Esophagectomy
Lung Biopsy
Lung Resection
Myotomy
Partial or Complete Pleurodesis
Plication of Diaphragm
Stricture
Thoracic Outlet Syndrome
VATS
Vascular

All types of AV Access for Hemodialysis
Aortoiliac & Aortofemoral Bypass
Endarterectomy – Carotid, Renal, Femoral
Fem-Pop & Fem-Tibial Bypass
Peritoneal Dialysis Catheter Insertion
Resection/Bypass – Descending Thoracic, Thoracoabdominal & Abdominal Aorta
NEW PATIENTS
We welcome new patients for consultations with our surgeons for surgical evaluation and treatment.
You may contact us directly or through your cardiologist or referring physician.
Please forward copies of your medical records from other physicians before your first appointment, which will be set for the earliest time and date possible. If you reside outside the Houston metropolitan area, you may want to send medical records and films in advance for a preliminary recommendation.
Please plan to arrive approximately 45 minutes early for your initial appointment to complete a medical history form and outpatient registration. This information helps us provide you with the best care and service possible. On your first appointment, please bring your medical records, a list of all medicines you presently take, and your health insurance card(s).
APPOINTMENTS
Appointment requests can usually be accommodated within 1 to 2 weeks or sooner if the condition is urgent. We recognize the importance of your time and will make every effort to meet your scheduled appointment. We ask for your understanding when medical emergencies may occasionally cause us to delay or reschedule your appointment.
CANCELLATIONS
If you cannot keep a scheduled appointment, please notify us in advance. We will assist you in rescheduling.
OFFICE HOURS
Our surgery office is open from 7:30 a.m. to 4:30 p.m., Monday through Friday. Our telephone number is (832) 355-4900. We are available to take calls directly at this number during normal business hours. However, our telephone is answered 24 hours a day for your convenience.
AFTER HOURS AND WEEKENDS
There is always a physician on call when our office is closed. However, we request that you call for appointments or other routine business during normal business hours. If you call after business hours, our answering service can help you. You may leave a message for a specific surgeon, or if the matter is urgent, the surgeon on call can return your message promptly.
In case of an emergency, call 911 for an ambulance. Once the patient is admitted to Baylor St. Luke's Medical Center emergency room, staff can notify our surgeon on call.